EXCLUSIVE PSYCHIATRIC CAMP AT SAI SAMARPAN
The SGF Trust organized a Psychiatric Camp on 17th December 2017 which was piloted by one of the Trustees a senior Neuro Psychiatrist  Dr. C.J.Maikandaan MD (NIMHANS) alongwith two other Doctors MD Psychiatry.The Psychiatric consultation and counseling services were offered from 10.30 am to 3 pm and availed by 25 special children and their family. Refreshments and Lunch was arranged for all the participants and the consultation and counseling services availed  was  very much appreciated  by all the special parents. They have also requested for quarterly follow up camps.
Photos
WORLD DISABLED DAY CELEBRATION
On 3rd December 2017, the Trust celebrated the World Disabled Day by donating Personal Hygiene kits  to 10 special children from economically weaker families. The Kit  consisted of Daily Care items such as Tooth Paste with Brush,  bathing soap with a soap box, a quality towel, shampoo bottle, a hair oil bottle, a compact mirror, comb, talcum powder,  handtowel and a nailcutter in an attractive Jute bag costing Rs.550/- The entire cost was sponsored by the Trustee Mrs Alamelu Sivaraman and Trustee  Shri.Padmanabhan Advocate Chennai High Court. The function was attended by two more  Special Children families and there was also entertainment for the special children. There was  music and dance performance by all the Special children which they enjoyed thoroughly. Lunch and refreshments were arranged by the Managing Trustee for  all the participants of the programme .
Photos
SAI SAMARPAN VOCATIONAL TRAINING CENTRE FOR THE DIFFERENTLY ABLED
 In November 2017 a Vocational Training Centre  "SAI SAMARPAN" was started at the new spacious premises of the Managing Trustee at Irandamkattalai . This spacious premises with an attractive garden  has been  offered at a concessional rent to the Trust,  by the Managing Trustee. The centre was on pilot run for a month and started functioning in full swing since December 2017. Two experienced staff have been engaged by the Trust to take up the training activities for the special children.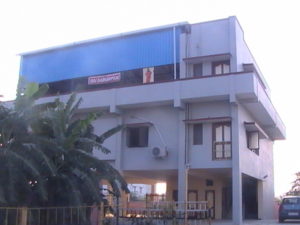 SPORTS CUM REHABILITATION CAMP
In July 2017 a Special  Rehabilitation Sports camp was conducted at the spacious new premises of the Managing Trustee Plot No.A4/A5 Everest Garden, Irandamkattalai for the special children of Deepam School. The Sports event was organized in co ordination with Dr.Radhika Bharath,Msc.PT (Glasgow,UK) CDNT, Lymphedema Therapist(MCCF) and  their Unit,   EMERGING FIT,( A PHYSIOTHERAPY & REHAB CENTRE)  at New No.33, Old No.29, Trustpuram 2nd Main Road Kodambakkam, Chennai 600024.
Photos